Pico Balloon Launch
11 July 2019
West Georgia Amateur Radio Society
WGARS launched its first Pico Balloon, an activity much different than the previous launches of weather balloons.  Pico balloons are basically party balloons carrying a very small and light solar powered transmitter that, in this case, transmitted on 20 meters using the WSPR protocol.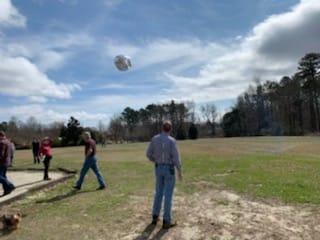 They are meant to fly for days, weeks, or months, unlike the large weather balloons that go to near-space, burst, and return to Earth.
Conditions were a little scary at launch time, as the pico balloons have a slow ascent rate, requiring a lot of time to get above tree-top level, and winds were gusting.  After a quick last minute repair of a broken antenna wire, and a few silent prayers, the balloon was launched, rising at a mere 1-meter per second!  Winds carried it in a direction that provided a good clear path and the balloon was slowly on its way to cruising altitude. After several hours, at nearly sunset, the balloon reached a cruising altitude of 23,500 feet in the Jet Stream, traveling over 120 miles per hour much of the time.
As the Sun set the balloon was heading towards the Southern tip of Bermuda where it was expected to turn North and pass over Ireland. Because the unit is powered by solar panels, it ceased transmitting location information as sunset passed. It was pointed out by WX4BK's XYL, Valerie, that the balloon was headed straight for the Bermuda Triangle.
We eagerly awaited signals from the balloon the next morning, but despite hours of waiting, WGARS PICO-1 was never heard from again.  Pico balloons are sensitive to any added weight, even moisture, and it is theorized that as the balloon was traversing the Southern side of Bermuda a large storm that was to pass well South shifted Northward, probably raining on the balloon, and weighing it down until it landed in the ocean.
Others propose a variety of other possible causes, included but not limited to, Aliens, the lost island of Atlantis, and a trans-dimensional gateway swallowing the balloon up.
The truth is out there, but we may never know what it is! :)