2015 Field Day Results
27 October 2015
West Georgia Amateur Radio Society
It's that time of year again, where we all start looking for the annual Field Day results - and the wait is over! ARRL posted the results and WGARS has a lot to be proud of!
WGARS Participated in class 3AC this year, logging 199 contacts, scoring 1158 points, and placing 1398 out of 2720 participating groups.  This year's Field Day setup went very well and participation was fair, however a Solar CME (Coronal Mass Ejection) began degrading band conditions Saturday night and by Sunday morning conditions had degraded to the point all bands were closed.
Despite losing about a third of our operating hours we still logged about the same number of contacts the previous year, scoring 284 MORE points (1158 this year vs. 874 last year) as a result of our additional operating modes & GOTA participants. We also placed higher in the rankings - at the 48 percentile this year vs. 38 percentile last year.
We actually made a few less contacts than last year as a result of the incredibly poor band conditions, everyone else was similarly affected and we simply outworked the other groups, resulting in a higher relative ranking in number of QSOs than we had in the past.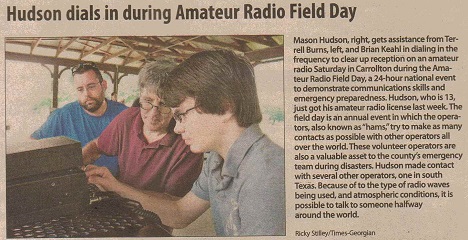 We had three GOTA participants this year, including one from a newly licensed Technician class operator. The young man (early teens) also graced the cover of the local paper with a photo taken as he was making contacts. GOTA station participation is probably the most important aspect of field day and we were very successful utilizing the station this year.
Our improved performance is the result of the hard work of several volunteers who helped gather equipment and begin setup Friday evening.  With all antennas in the air Friday evening we were able to setup quickly Saturday and begin operating all stations at the moment the event began. 
You can see our club's stats, as part of the overall list HERE, under our club call sign: W4FWD. You can also get a bit more information about our 2015 Field Day operations by clicking HERE.